The Cavalry Rides Again (posted on fanfiction.net)
Summary: Set after 'South by Southwest' – Called to the aid of an old friend, the NCIS cavalry rides out again but this time Tony is hiding a dangerous secret. Ensemble cast in beginning, then hurt/comfort with Sick!Tony in end. Gibbs/Tony father/son/friendship. Not Slash.
More NCIS Fanfiction….
Moki's Favorite NCIS Fanfiction Stories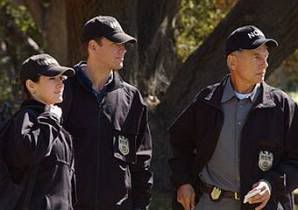 Well it's been awhile since I added any favorites so I thought I'd put up a few more. Once again, this is not a complete list, just some stories that I stumbled across while organizing my favorites list on fanfiction.net.
Enjoy!
More of Moki's favorite fanfiction tags to "Flesh and Blood"
A Sense of Duty by GraveDigger Resurrection
A Sense of Family by GraveDigger Resurrection
Moki's Favorite NCIS Tony and Gibbs father/son stories
Bottles by AZGirl
Fragments: Requiem by Jaz22
Undercover Holiday by Caos Accidentale
Moki's Favorite NCIS Tony and Ziva friendship stories
Sharing by AlkalineTeegan
More favorites…
Moki's Favorite NCIS Fanfiction Stories
It's only been a week since "Flesh and Blood" aired and already there are plenty of NCIS fanfiction stories based on it. I decided to put together a list of some of my favorites so far. All are one-shot tags (see my glossary for definitions of these terms), and all of them prove that this episode is going to have people talking for a good long time.
Hearth and Home by Richefic
Amen by AlkalineTeegan
Fathers by Nonnihil Scelestus
I Don't Need You by Miss Barbara
NonAlcoholic Beverages by FiveForFighting09