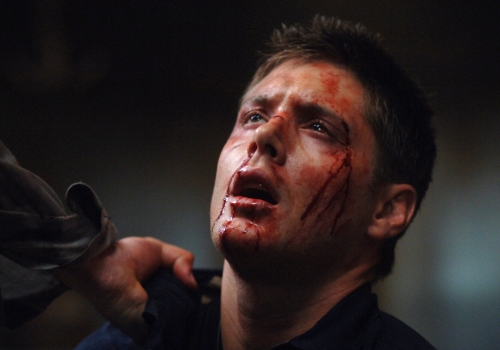 Hurt/Comfort Fanfiction: Why Do We Hurt the Ones We Love?
Before I ever knew what fanfiction was, I was already interested in the hurt/comfort (aka "H/C" – see my Fanfiction Glossary for more definitions) genre. Whenever I watched a tv show, read a book, or watched a movie, I always found myself a bit more interested if the hero basically got his ass kicked. The stronger they were, the more I liked to see them fall – emotionally as well as physically.
Once I discovered the wonderful world of fanfiction, I was surprised by how many people apparently shared my feelings. While searching through stories, I found many featured a favorite character getting hurt, dealing with tragedies, etc. Not only that, they also featured another character helping them through it all, someone who cared for them and comforted them while they were hurt.
Now that I am a writer myself, I have delved into this genre and continue to be fascinated by it. The first time I posted a hurt/comfort story, I wondered if anyone else would be interested in it or if I was part of a minority. Turns out I'm not, as the traffic and reviews to my stories have proven.
So what is it about the h/c genre that we like to write and read? Why do we like to hurt the ones we love?
We are not monstrous, cruel beasts.
You know, I used to wonder about myself. Back before I knew there were others who liked h/c as much as I did. I wondered if there was something "wrong" with me for liking to torture my characters. But now after writing a few of these stories, and talking to other authors who do as well, I know that it's not out of cruelty. We are not horrible, terrible people, angry at the world and taking it out on our characters. We are simply people writing stories that we enjoy.
Let's face it, anguish and pain are interesting.
Don't get me wrong; I'm all for stories where everything is lollipops and rainbows. I've even been known to write the odd bit of fluff here and there myself. But there's nothing quite like a story where you have to wonder if your character is going to survive. Where you feel their pain because you've been there yourself and you want them to fight back. Where you watch them go through an emotional trauma that makes them stronger. These are the kinds of stories that truly get my dander up, making me look forward to each chapter with so much anticipation that I practically stab at my keyboard as I click on each subsequent chapter. These are the kinds of stories that I like to write as well, for the same reasons.
Giving our favorite characters the limelight.
One of the things I love most about reading and writing hurt/comfort, is that it gives my favorite characters a chance to be the center of attention. Other characters worry over them, have long discussions (often emotional ones) about them and go out of their way to help. It's awesome. If your character is part of a large ensemble cast, sometimes it can be the only way they get a lot of attention.
Taking supporting characters in new directions.
When I write fanfic, one of my main goals is to keep my characters in character. But writing hurt/comfort also allows me to stretch characters to the very edge of their personalities. My favorite type of h/c story features strong men – one of which is hurt and the other then has to help. I enjoy writing this because it gives me a chance to take these usually strong, macho-type men and weaken them to the point where they can show their soft little underbellies. I get to write scenes that, if written during a 'normal' point in their lives, may come off as out of character. They get to say and do things they may not normally, all because of the situation they are thrust into.
Wearing them down and then building them up.  
Taking a character down to the lowest depths, whether by physically hurting them or putting them through emotional hell, let's us observe their journey back. As an author, I not only like writing the scenes where my characters are going through the tough stuff, I also like writing them coming back from it. By tearing them apart, we get to put them back together as well.
So what about you? If you're a fan of the hurt/comfort genre, what is it about it that compels you to read or write it?
Want to know every time I add a new post? Be sure to subscribe to Moki's Fanfiction Blog!
More on Moki's Fanfiction Blog…
Moki's Latest NCIS fic "The Cavalry Rides Again" – chapters 5 & 6
How Writing Fanfiction Prepared me to be a Freelance Writer
Fanfiction Tips: Writing a Good Action Scene
Fanfiction Tips: Keeping Your Characters In Character
Fanfiction: Your Dirty Little Secret?
The Friendly Writer: Using Fanfiction to Improve Your Writing